Developing our values
New technologies are likely to play a significant role in the NHS in the coming years, which means that companies developing this technology must take their societal responsibility into account. We believe that these companies - including DeepMind Health - must work hard to ensure that their products and their behaviours uphold the public interest.
We worked with Ipsos MORI, Crowe Associates, and The Social Kinetic, to talk to a wide range of stakeholders - from members of the public, to patients and carers, to those working in healthcare and technology - and hear their thoughts about what matters to them and what they want from us. Through group workshops, 1:1 interviews, open feedback forms and our Collaborative Listening Summit, we sought to establish a guiding set of values by which companies like DeepMind could work with the NHS and other healthcare systems.
You can see what happened at the Collaborative Listening Summit in the short event video below, and read the summary report from Ipsos MORI here. Harry Evans, researcher at The King's Fund, participated in the event and has written a blog on his experience of the day, and how work of this kind will impact the health, policy and tech industries. You can read that here.
DeepMind Health's Collaborative Listening Summit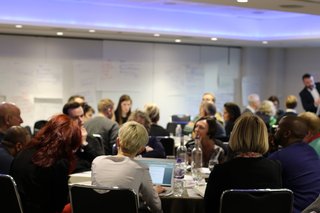 Be transparent
Be open about the challenges we are trying to solve. Own up, and ask for help, when we don't have the answer.
Be clear about all the projects we are working on, what our financial interests are, and what our company roadmap is
Demonstrate how data for projects is being used in an accessible way
Listen to others
Meaningfully engage and collaborate with all those affected by our work: patients, carers, clinicians, members of the public, health stakeholders and policy makers
Work with stakeholder groups at every stage of our projects - from initial conception, to on-the-ground collaboration, to publishing our findings
Work for social good
Work in the best interests of the patient and set this out from the start
Make products and services that improve healthcare for all, not just the few
Avoid unintended consequences which might destabilise or harm health systems
Have a positive impact
Prioritise real-world positive impact for the benefit of billions of people around the world above everything else
Be mindful of how technology will impact different groups and sectors
Make sure that we are focusing on solving the right problems, listening to stakeholders to find out the most pressing issues facing them
Conduct risk assessments prior to beginning a project
Use data responsibly
Maintain the highest standards of privacy and security when dealing with both identifiable and de-identified data
Be recognised as having industry-leading safe and secure data practices
Be transparent about what data we're using, who is using it and for what purpose and, where applicable, ensure opportunity for notice and consent
Operate sustainably
Be thoughtful about what projects we work on and why, balancing operational costs against global medical benefits
Reinvest profits back into our long-term mission, ensuring that we can continue having a positive impact on the system by reducing costs and improving outcomes
Work with partners to develop meaningful ways to share value with them and the wider public
We recognise that working in healthcare is a huge privilege and responsibility, and we are committed to setting a new standard for transparency and engagement. Our values are central to every decision we make, determining what we do and don't do, and we hope that they will act as a measure by which we can be held to account.