Streaming the right information to the right clinician at the right time

With our Streams app, we're helping transform the way nurses and doctors prevent avoidable patient deterioration in NHS hospitals. Too many lives are lost because clinicians don't have real-time information about who urgently needs their care. One in ten NHS in-patients suffers some kind of avoidable harm, and 40% of people in intensive care could have been prevented from ending up there. We think technology can help.
Our vision is of an NHS where every patient receives the right care from the right clinician at the right time, made possible through cutting-edge mobile technology that pushes patient alerts to nurses and doctors, enables them to securely assign and communicate about clinical tasks, and gives them all the information they need to make the right diagnoses and decisions. 
We're working closely with our partner trusts to make this vision a reality. Streams' technology will speed up the time to alert nurses and doctors to patients in need down to a few seconds. And by freeing clinicians from juggling multiple pager, desktop-based, and paper systems, Streams will help redirect significant amounts of time from admin and towards direct patient care. 
We've built Streams in close partnership with NHS clinicians, who know exactly what they need, and are holding ourselves to the highest standards of security and oversight. That includes building new infrastructure that will give our partner hospitals an additional real-time and fully proven mechanism to check how we're processing data. We're also working with digital product studio ustwo to bring the very best of user-centric design techniques to the field.
In time, we hope that this can help unlock the next wave of innovation in the NHS. The infrastructure that powers Streams is built on state-of-the-art open and interoperable standards (known as FHIR). This infrastructure will allow our partner trusts to have other developers build new services that integrate more easily with their systems, helping them bring new innovations to the clinical frontlines.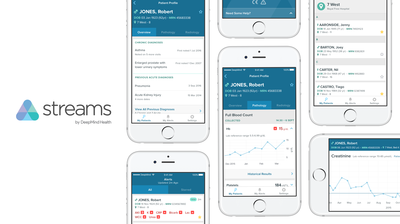 What Streams does
Based on what clinicians have said they need, our partner Trusts will have the ability to implement the following:

Results viewing. Providing nurses and doctors with quick and easy access to all of their patient's test results.
Alerts. Notifying nurses and doctors as soon as observations or test results indicate a potential problem with a patient, helping to provide much faster care for widespread problems including acute kidney injury, sepsis and more.
Patient medical history. Presenting clinicians with key facts about the patient's medical history such as previous diagnoses, procedures and admissions, so clinicians have the fullest understanding of their condition in deciding the right care. 
Teamwork. Replacing the current outdated system of allocating tasks amongst clinical teams by phone, paper, pagers and fax machines, by allowing nurses and doctors to request actions from other members of the team, such as looking at test results or checking on a patient.
Messaging. Enabling frontline staff to communicate simply and securely with one another about the care they're providing. 
Bringing these features together in one app could save millions of hours every year that would otherwise be wasted by sharing information using the current, out-of-date technology, which in turn could save millions of pounds for the NHS. 
Clinicians play an invaluable role in helping us ensure our products are as clinically effective as they can be. We are looking for nurses and doctors working in hospitals who would be interested in testing and providing feedback on the Streams application at the DeepMind office in Kings Cross. Click here if you'd like to find out about getting involved.
The Royal Free London NHS Foundation Trust
Since late 2015 we've been working with the Royal Free London NHS Foundation Trust on Streams, starting out with a version of the app focused solely on acute kidney injury (AKI). AKI is a contributing factor in up to 20% of emergency hospital admissions, and is linked to 40,000 deaths in the UK every year – a quarter of which NHS England estimates are preventable.
The partnership began when kidney specialists approached us to ask if technology could help them to detect AKI in its early stages. Every minute counts for patients who develop AKI: it can result in minor loss of kidney function all the way through to dialysis, transplant, and even death.
Michael Wise, a patient who developed the most serious type of AKI while in hospital, describes his experience of undergoing dialysis and receiving a kidney transplant, and the impact of his illness on his family, here:
Acute Kidney Injury – a patient's journey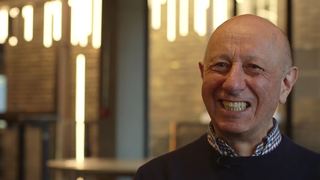 To help clinicians to detect AKI at an early stage, the app automatically alerts them as soon as a blood test indicates a possible AKI, and provides them with all the historical patient information they need to make the right diagnosis.
Streams was rolled out at the Royal Free in early 2017 and has shown early signs of improving patient care. By the end of February, more than 26 nurses and doctors at the Royal Free were using Streams, with the app alerting clinicians to an average of 11 patients at risk of acute kidney injury per day. Some of the nursing staff using Streams have estimated that it has been saving them up to two hours every day, which means they can spend more time face-to-face with patients.
Over the coming months Streams will roll out to more clinicians at the Royal Free and a formal service evaluation will be carried out to measure the overall impact Streams is having.
We're also pleased to have entered into a longer-term partnership with the Royal Free that will see us extend Streams to cover illnesses other than AKI, including conditions such as sepsis and other organ failure, as well as implementing additional features such as clinical task management. 

We're proactively publishing our agreements with the Royal Free with minimal redactions, including our master services agreement (covering the partnership as a whole) and our information processing agreement (covering how patient data is processed).
Some reactions to our new partnership with the Royal Free:
Professor Keith McNeil, NHS chief clinical information officer:
"The health and care system stands poised to harness the power of information and technology to substantially improve the care we provide to patients and to promote world class health outcomes.
"We cannot do this alone and we need to work with world leading partners, and I am delighted that the Royal Free are going to be able to use the brilliant technology and innovation offered by a partner of the stature of DeepMind to help deliver better, safer care to their patients. I commend them for their initiative and wish them every success with the venture."

David Myers, President of the Royal Free Kidney Patients Association: 
"As a kidney patient for more than 25 years I am really excited about the potential of the Streams AKI app. This seems to me something that will revolutionise the speed with which AKI patients will be cared for. I think this system could not only save lives but could improve patients chances of living longer whilst reducing their stay in hospital. This must not only benefit patients by ensuring that they receive the correct care immediately but also should reduce the cost of caring for patients if AKI incidents are recognised at an early stage. I am happy that patient data is safe."
Professor Jane Dacre, President of the Royal College of Physicians:
"The Royal Free London NHS Trust and DeepMind's new partnership […] offers exciting possibilities for improved care for patients and more efficient systems for physicians to work with. It is encouraging to see the NHS harnessing technology to make a difference at the bedside and the clear focus on delivering real differences to patients' lives and health.  Whenever we develop new ways of using patient data, it is essential that safeguards are in place for appropriateness and confidentiality, but with these we should embrace the opportunity to improve healthcare quality and reduce the burdens of bureaucracy on clinicians so they can focus on their patients."


Imperial College Healthcare NHS Trust
In December 2016 we agreed a five year partnership with Imperial College Healthcare NHS Trust to help it bring on board the latest technology in delivering patient care.
Over the last two years the Trust has moved from paper to electronic patient records, and mobile technology is the natural next stage of this work. By giving clinicians access to cutting-edge healthcare apps that link to electronic patient records, they'll be able to access information on the move, react quickly in response to changing patient needs, and ultimately provide even better care. 
We'll be working with the Trust to deploy our clinical app, Streams, which supports clinicians in caring for patients at risk of deterioration, particularly with conditions where early intervention can make all the difference. Like breaking news alerts on a mobile phone, the technology will notify nurses and doctors immediately when test results show a patient is at risk of becoming seriously ill. It will also enable clinicians at Imperial to securely assign and communicate about clinical tasks, and give them the information they need to make decisions on care.
As in our partnership with the Royal Free, we're also implementing state-of-the-art open and interoperable standards, via what's known as a FHIR API. This will allow the Trust to easily, securely and consistently integrate other apps that could improve care, whether developed by third parties or innovators within the Trust. Our partners at Imperial are excited about the potential for a wide range of apps to improve care, and we're delighted to be working with them to make this possible.
We're proactively publishing our agreements with Imperial with minimal redactions, including our master services agreement (covering the partnership as a whole) and our information processing agreement (covering how patient data is processed).
Some frequently asked questions
Streams is a secure clinical app used at the Royal Free to help nurses and doctors treat hospital in-patients who are at risk of becoming seriously unwell. It automatically analyses test results, and if it picks up signs of deterioration then it sends an immediate mobile alert with all the relevant information to the right nurse or doctor, so they can come to the bedside right away. The first area we are working in is acute kidney injury, which is a sudden deterioration in kidney function that causes them not to work properly. The early feedback from nurses, doctors and patients has been very positive, and you can read more about one of the patients who was helped in the Evening Standard newspaper, here.
Some people have asked questions about how DeepMind's Streams app works, and so we've answered some of the most common questions below. 
Streams and The Royal Free
For Streams to work, it has to securely process patient identifiable data. Otherwise, it would be impossible for the app to help nurses and doctors know who needs treatment, and what's wrong with them. Like any company working with the NHS to process patient data, DeepMind has to follow a strict set of rules, and ensure the data is only used on the instructions of the hospital.
We do not and will not make money from patient data - we don't sell it, we don't use it for advertising, we don't commercialise it in any way. Our business model is simple: we will charge hospitals a fee for providing them with a useful service that improves patient care - like other health technology providers do.