Security and Information Governance
Data security and privacy
Patients have the right to know that their health data is processed appropriately, and is handled with the utmost care and respect. We always have, and always will, hold ourselves to the highest legal and ethical standards. This includes working with trusts and regulatory bodies to obtain all approvals for any work we undertake. We rigorously train all of our staff to understand and abide by information governance for direct care and health research applications.
As a data processor for our partners in the Royal Free and Imperial College Healthcare NHS Trusts, the issue of data security is one we take seriously. 
For Streams to work safely, it has to present clinicians with all the necessary patient information required for them to make an accurate diagnosis and determine the right treatment. For AKI, for example, this information includes historical medical data such as previous illnesses and operations, allergies and previous blood tests results that can be compared to more recent blood tests.
In order to process this data, we first copy it from the Trust's systems to our NHS Digital approved data centre located in the UK. This is done over an end-to-end encrypted link.
Once in our data centres, the data is stored in an encrypted database and only decrypted when it is needed for processing. The decrypted data and data derived from it is never stored on disk without first being re-encrypted. Data transmitted between machines is also end-to-end encrypted, and all equipment is physically secured within a locked cage. All backups within our systems are also conducted over secure, encrypted links.
Any time our systems receive or touch patient data from our partner hospitals, we create a log of that interaction that can be audited later on. Those logs are regularly reviewed by our Information Governance team to ensure that accesses are legitimate, as well as being open to review by our Trust partners and our Independent Reviewers.
We're building on this data log system to give our partner hospitals an additional real-time and fully proven mechanism to check how we're processing data. That will allow our partners to continuously verify that our systems are working as they should, and that data is only being used as it should be.

In addition, all software used to process the data is subject to both internal review by our software engineers and security teams, and external oversight by our Independent reviewers.
Once data is no longer required, we permanently delete it from our systems. Where applicable, we also destroy any encryption keys associated with that data. Any storage device that is retired from service in our data centre is physically destroyed to ensure there is no possibility of data leakage or recovery.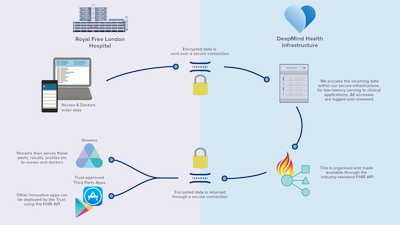 Information Governance
The legal framework covering the way patient data can be used and handled is necessarily strict and complex. It includes the NHS Act 2006, the Health and Social Care Act 2012, the Data Protection Act 1998, and the Human Rights Act 1998. This is an extremely important issue for patients, for clinicians and for us. The process through which we meet our obligations on patient data is known as 'Information Governance'. We ensure that we always adhere to the highest standards of information governance in all our work, including working with trusts and regulatory bodies to obtain all approvals for any work we undertake.

Using technology for direct patient care
Direct patient care, as defined on NHS Digital's website, involves a multitude of third-party tools and services for the processing of patient data. From email servers to pagers, MRI scanners to heart monitors, the details of our physical condition are transmitted over systems built and maintained by companies rather than clinicians.
To enable the NHS to provide care to those who use health services, Trusts may in some cases need to ask third-party organisations to process identifiable data.
NHS Digital state that direct patient care includes: "clinical, social or public health activity concerned with the prevention, investigation and treatment of illness and the alleviation of suffering of individuals". Under implied consent, the NHS has a number of agreements with third-party organisations to support direct care, many of which are vital to the safe and effective treatment of patients.
As Streams will help support clinicians in the NHS with the provision of direct care to patients, the apps will need access to identifiable patient data. In relation to any identifiable personal data that we are provided access to, we will at all times act as the "data processor" on behalf of the "data controller" (the NHS organisation that collects and owns the data).
This means that we will only ever process the identifiable personal data on the instructions of the relevant NHS organisation, under agreements containing strict obligations in relation to the use and protection of that data. You can read more about data processors and data controllers on the ICO website.
Prior to having any access to identifiable personal data from a data controller, we make an application to the information governance department of the NHS organisation in which the clinical app will be used. IG departments are bound by the rules of the Information Commissioner's Office (ICO) and NHS Digital.
No identifiable personal data is processed, and no clinical apps are used, until the IG department indicates approval by signing an appropriate processing agreement. As a data processor our access is controlled by the data controller and our responsibilities are set out in an appropriate data processing agreement, such as our agreement with the Royal Free.
Any processing of information is always under strict guidelines and privacy protection, with the highest level of encryption and security to ensure that the data never falls into the wrong hands, and is always used only for the intended purpose outlined by the data controller.
Using technology for medical research
Research on patient data involves different approvals and permissions to the process for clinical apps.
For our research project with Moorfields Eye Hospital, all the patient data is non-identifiable and was previously collected in the course of normal care. DeepMind has been given permission for data access via a Research Collaboration Agreement with Moorfields Eye Hospital, and an approval to carry out research from the Moorfields Research & Development department through their Research On Anonymised Data (ROAD) approval pathway. The ROAD approval pathway ensures compliance to information governance guidelines, for safe use of NHS data. You can request a copy of the Research Collaboration Agreement and the Research On Anonymised Data (ROAD) form by emailing press.office@moorfields.nhs.uk.
Since the Research Collaboration Agreement was signed, we have submitted an application to the Health Research Authority for an extended version of this project which will allow us to combine the images over time. As part of this work we have published a research protocol on the open access website F1000Research.
Information Governance FAQ
Throughout the course of every project, DeepMind takes rigorous measures to protect the security of patient data.

Before accessing any patient health data, we undertook a major project to design an information and data security architecture of the highest quality, working in partnership with medical and security experts to analyse and mitigate risks.
In line with NHS Digital's processes, we completed a self-assessment of the IG toolkit, and assessed our compliance to be at Level 3, the highest level possible across each of their requirements. NHS Digital subsequently assessed our IG toolkit compliance, first remotely and then via an on-site audit at DeepMind. Both assessments verified that we had reached at least Level 2 (NHS Digital assessments do not, as standard, examine whether an organisation has reached Level 3, since the standard required by the Department of Health is Level 2).

For our research project with Moorfields, a data custodian has been appointed by DeepMind Health to control access to the data. Only those who require access to conduct the research work will be granted access. All researchers who are involved in the study are required to complete NHS Digital and internal DeepMind information governance training before beginning research work.
An update was made to the FAQ "What steps have you taken to protect patient data" on 22/07/16.
We believed our Level 3 self-assessment had been verified by the NHS Digital when we received the "satisfactory" grading on their public website. Following discussion with the NHS Digital, we understand that their assessments only verify up to Level 2, since this is the Department of Health-required standard, and that while they allow self-assessment up to Level 3 they do not themselves usually verify compliance at that Level.